Michelle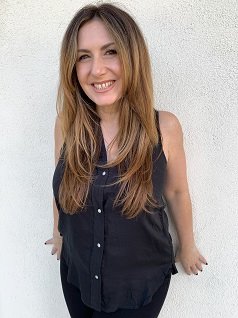 New Hair Home Beginning 10/18 Depasquale the Spa in Morris Plains, NJ
Core Salon is owned and operated by designer and visionary Michelle Parkes. Michelle brings over 20 years' experience with her and an impressive resume of collaborative efforts with the biggest names in the business. As former National Educator and Platform Artist for Paul Brown Hawaii, Michelle has several years of experience in re-texturing and taming curly hair. Michelle can individualize the process for any hair type including the specialized care and style of all ranges of curly hair. Michelle is currently part of the Beth Minardi Signature Shades education team which gives Michelle the opportunity to work behind the scenes for Beth Minardi hair color shows and events.

Michelle has also had advanced training with industry innovators such as Paul Brown, Phillip Wilson, Jo Blackwell, Patrick McIvor, Nicholas French, Vivienne Mackinder, Sue Pemberton and Beth Minardi. This training has helped Michelle grow as a stylist, colorist , re-texturizing specialist and also be able to give her guests looks that you see in fashion magazines. Michelle is a true artist when it comes to hair color, whether you are looking for a natural look with depth and shine or a bold look with multi-dimensional hues. Michelle can customize your color to enhance your cut and style.
Michelle has contributed to the development of educational forums, runway events, beauty expos, and photo-shoots. Through these experience's Michelle has found a new love and passion which has inspired her to create the "Michelle Parkes Hair" brand. Michelle worked behind the scenes of New York Fashion Week two times in a row styling with the Nioxin Design Team and the Sebastian Professional Design Team for designers Korto Momulo and Christian Siriano, both of Project Runway. Michelle has designed looks for Elle Madrona's International Fashionistas "East Meets West" and "Taste of Glamour" fashion shows which gave Michelle the amazing opportunity of styling celebrity models. It was this experience that brought Michelle together with actress Amanda Greer for future projects .

2010 and 2011 Paul Brown Hawaii Main Stage Artist Emiliani Beauty Expo

2012 worked on the Wounded Warrior Project along side Paul Brown doing make overs for the Wounded Warrior Ball at the Waldorf NYC

2013 Model Call for NAHA with Paul Brown

2013 worked side by side with Paul Brown styling hair for his Master Stylist entry for NAHA (North American Hairstyling Awards)

2013 New York Fashion Week Spring/Summer Collection; styling hair back stage with the Nioxin Design Team for Project Runway winner Korto Momulo

2014 New York Fashion Week Fall/ Winter Collection; styling hair backstage with the Sebastian Design Team for Project Runway winner Christian Siriano

2014 Teamed with Photographer Sal Fiduccia (SA Fiduccia Photography) on a photo shoot for Miss Bulgaria USA, Silviya Taseva

2014 Styled hair for a music video for female recording artist Chioma chiomainternational.com

April 2014 Lead stylist for International Fashionista's "East Meets West" Fashion Show at EVR New York City

May 2014 Lead Stylist for International Fashionistas "Taste of Glamour" Fashion Show at Pepela in New York City international fashionistas

2014 - 2016 worked on several projects with actress Amanda Greer www.amandagreer.com
2014 Lead Stylist for Saks 5th Ave, Liz Claiborne and Chesterfield Eyeglass Campaign photo shoot.
2014 Photo shoot with Lea Rannells of "Project Runway" and James DiNonno of the "Black List".
2015 Lead Stylist for Saks 5th Ave, Liz Claiborne and Claiborne Eyeglass Campaign photo shoot.
2016 Attended "Gateway To NAHA" amazing 2 day Editorial and Avante Garde hair class with Nicholas French at Skyfall in Palm Springs, CA
2017 Styled behind the scenes for Beth Minardi hair color show/ class at Art of Business in Reading, PA
2018 Styled behind the scenes for Beth Minardi hair color show and launch of Beth Minardi Signature Shades hair color at Art of Business in Reading, PA.
2018 Worked behind the scenes and on stage for Beth Minardi hair color show at the Marriott in Saddlebrook, NJ https://bethminardi.net/about-beth
2019 Worked behind the scenes for Beth Minardi hair color class in NYC at Takara Belmont Showroom
2019 Attended 3 day Beyond The Cut Workshop with Vivienne MacKinder in NYC
2019 Attended 3 day British Hair Invasion Workshop with Nicholas French, Phillip Wilson and Sue Pemberton in Palm Springs, CA

2020 Blended Blonde Education online certification
MY HOURS
MON | 03:00 PM -10:00 PM
TUE | 03:00 PM -10:00 PM
WED | 08:00 AM -03:00 PM
THU | 08:00 AM -03:00 PM
FRI | 08:00 AM -06:00 PM
SAT | 08:00 AM -05:00 PM